Hamed Hosseinpour's recent work shared on the forums – "Valley of my Mind" quickly captured my attention for the "vastness" he managed to convey with just that single image. Vastness of scale, world and story. Being curious as I am, I asked him to tell us more about his process and today he shares it with us all. Enjoy!
INTRODUCTION
First of all, many thanks to Ronen Bekerman for sharing my work and this case study here. It is a great honor for me to be able to showcase my your work to all of you here.
The basis for this recent work of mine was laid in a previous project from 2015 titled "castle of my mind" (story of the person look at his mind) after that and some consideration from websites & magazines I went back to that story once more.
1 – References to get going
I found some inspiration from nature and started the work.
2 – Placing the main character first
In this scene I've put the character in the viewport as basis for my composition and placed the camera (Prior to this, I did some sketches).
3 – Let's Rock! Using "Rock Generator"
I used the Rock Generator script by Alessandro Ardolino for 3dsmax to create every stones and rocks in the scene (just did some FFD on them for random look), and used V-Ray proxy for many rocks in the scene.
4 – The Green Stuff
My goal in this work was to show the GREEN and some natural elements. In this section I used some high quality 3d models from Evermotion Archmodel 117 collection, R&D iBushes and iToo Forest Pack Grass.
All shaders were either tweaked or redone for more quality.
5 – Scattered around
For scattering all the trees and plants I used Forest Pack and Advanced Painter.
6 – Scene focus
The main parts of the scene as I indicated them and planned for.
7 – Composition
Not the most common framing was picked for this view, but I like it and exploring composition is key. This image below shows what I had in mind for this frame…
8 – Coloring
Before I started to create materials, I took an overall approach to this view… what would be my scheme? You can find many design seeds online, just google it. In this part, a book that really helped me was "learning to see creatively : design, color & composition in photography" by bryan peterson.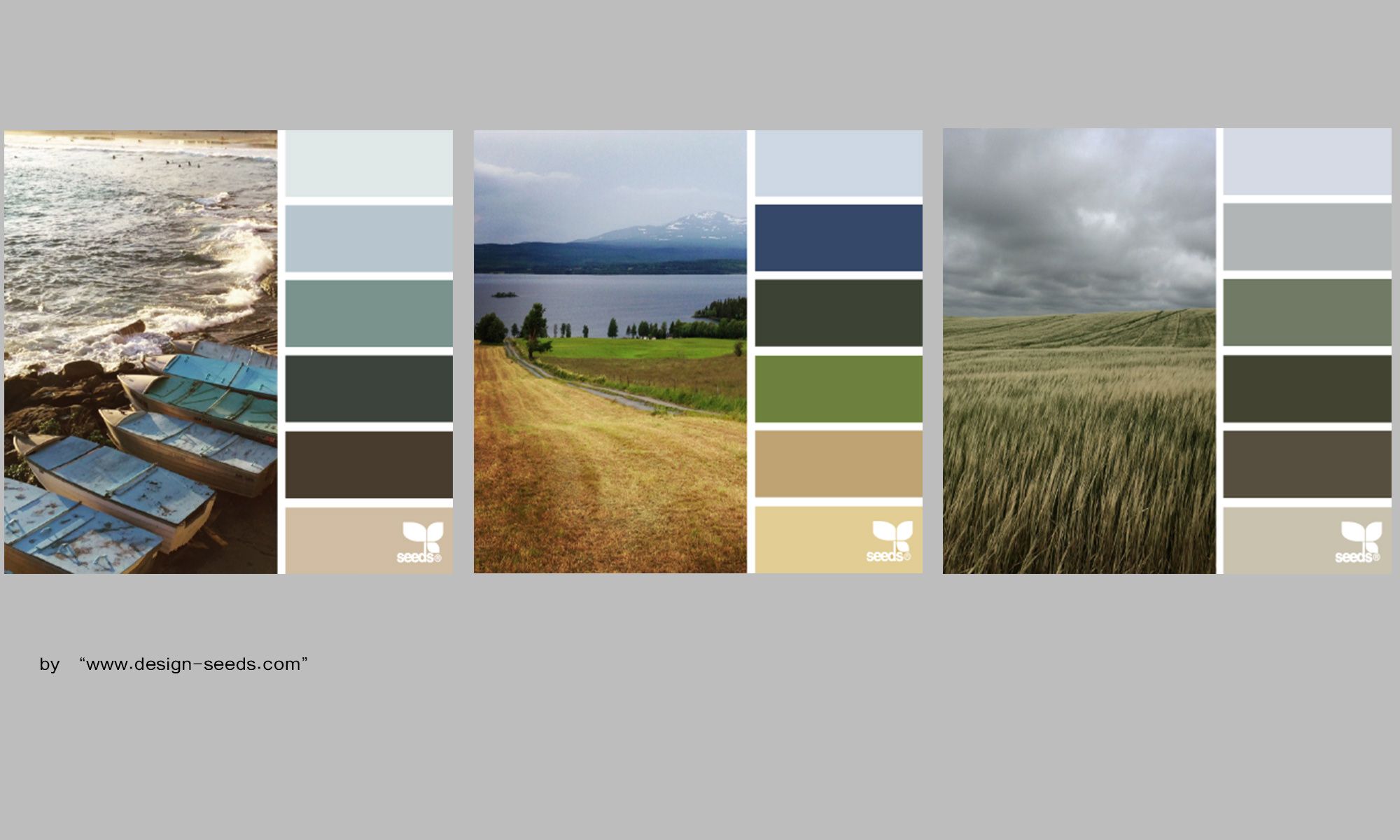 This is the seed for my image :
9 – HDRI Lighting
An important part of my work is the lighting setup. I used just one HDRI from Peter Guthrie's PGSkies. The 0743 one. For more effective and more sharp light I do the lower "inverse gamma" to HDRI map and the result is great 🙂
10 – The Waterfall
To create the waterfall I just used some planes mapped with textures for a fast and effective result (you can use RealFlow or other simulating plugins to create real water).
11 – The Rust
Here's the rusted metal material node structure
12 – Water!
I made the water texture from a high-res images, used with these settings 😉
13 – The Rock Material
Simple rock material with V-Ray displacement
14 – Leaves
All plants and trees material is VRay2SidedMtl and all of them have color corrections (and other shaders created with simple V-Ray material and some little edit).
15 – Settings…
We all love render settings, right?
16 – The Elements
Here's what I use that becomes very handy during post-work.
17 – Post-work begins!
My post-work is done in 4 master parts :
Render Elements
2D Elements
Fog and Light Rays
Color and Contrast
In part 4 I add these elements as well to control various aspects of the visual :
V-Ray Lighting
V-Ray Reflection
V-Ray Diffuse Filter
V-Ray Specular
18 – 2D Elements
19 – Fog & Light Rays
20 – Going for final
And the final part has some "exposure" – "color correction" – "contrast" – "lens blur" & "unsharp mask".
That's it 🙂
The final result…
Hamed Hosseinpour is an Architect / 3d Artist based in Iran. He started to learn Architecture in 2007 and entered ArchVIZ for the first time during 2009, becoming his main focus since. He's been working at visualizing interior and exterior designs for the past four years and strives to be better at it each day.