It is not a secret that the photo being used as a backdrop for a photorealistic architectural visualisation, specifically an aerial, can make or break the visual. I find it odd I did not address this area of our work so far – When Virtual Meets Reality! That is why I've approached Jason Hawkes, A London based photographer specialising in Aerial Photography since 1991 to share his insight on the topic. Enjoy!
Jason works worldwide and his clients include brands such as Nike, Coca-Cola, Nokia, HSBC, NatWest, Ford, American Airlines, Rolex, Toyota, Smirnoff, Mitsubishi and BP. He has produced over 40 aerial photography books for publishers such as the BBC, Random House and Harper Collins. This article is just a small glimpse into his insight about Aerial Photography, aimed at expanding the scope covered by the blog.
Firstly, I must thank Ronen for inviting me on here to talk about how I work. Whenever I look at this blog, I'm always amazed at how expertise and software can combine to create such incredible images. In fact, as an aerial photographer, you'd be surprised how much the technological zeitgeist affects who I work for.
When I first started taking photographs from the air in the 90's, it was publishers who were the most interested. As far as I'm aware, back then, my work held little professional interest for visualising architecture.
Today, of course, things are very different. While the digital publishing boom meant a rough ride for traditional publishers, advances in software took 3D visualizations of potential new buildings to another level. Now I work with architects, CG artists and commercial property development companies on a daily basis.
Create the Right Impression
I suppose the catch for companies involved in creating CGI images of an unbuilt environment is that people now expect high-end visualisations as standard. First impressions always matter whether it's to entice investors and buyers or to analyse how a city works. And we all know that showing the virtual as reality impacts greatly on how newly designed buildings are received before a single brick has been laid.
So for those who favour a photorealistic style, and are embedding visualisations within a photograph, I'm told that a good starting point is having a high-quality photo for use as a backdrop.
Capturing Attention
When I work with CGI and architecture companies, I think about things very differently to when I'm shooting an ad campaign.
With advertising and design agencies, the briefs are often quite 'free' creatively speaking. I might be asked to capture images around a theme, e.g. an urban landscape, or even something abstract such as a particular colour. It could be that the brief is to get a shot of highly populated areas, with people visibly rushing around, so I'd need to locate this while in the helicopter and then bank right over to look directly down.
Of course, this isn't always the case. Some ad briefs are much more targeted and precise. But 9 times out of 10 I'm employed to shoot images that catch my eye in the moment, things that you don't know are there until you fly over them – and so there's an element of creative licence as to exactly what the resulting image will look like.
For CGI, it is a different story entirely.
Briefs are usually extremely specific and detailed. My clients have almost always decided on the concept and spirit of the picture they want to create in order to most thoroughly engage their target market. They'll already have a vision of what mood, feeling and atmosphere will work best for their project.
Having shot solely from the air for the last 25 years, I'm able to use my knowledge and experience to help them get the right backdrop. Every detail is nailed down before I even set foot in a helicopter. Clients and I go through every aspect with a fine-toothed comb, agreeing the best time of year, time of day or night and the perfect angle of light. Obviously, we talk about which direction the image should be facing, but we also discuss if there are particular angles that are required to be used, to eliminate other buildings from view for example.
Often I need to be in a particular position to the nearest 10 ft – not easy in helicopters whose instruments aren't that accurate. So I have to gauge it by using the other building around me as reference points. However, at least, the cameras I work with now are all GPS encoded which really helps if the photographs are needed to assist with modelling.
Composition
It's one thing to remove buildings that have already been built from an aerial photograph, but it's another when I need to capture images that will allow my client to prominently showcase their project to best effect when the buildings that surround it also are yet to be built. This is some of the most technically challenging work for me.
A case in point here is Nine Elms, a huge on-going development alongside Battersea in London. I've been shooting here weekly for two years, with briefs coming from as far afield as China and Dubai. With so many skyscrapers going up in close proximity to each other, every architect is keen to make sure theirs is the one that stands out.
Sometimes the CGI company will provide modelling software so that we can get a good idea of where and how the building is going to look. Other times it requires me to shoot from 20 different angles so, once the job is completed, the CG artist will have plenty of choices to make it work.
Aerial Photography Methodology
So, some technical details.
In daylight, shooting stills without a mount, you have to have a shutter speed of at least a minimum of 1/1000th sec because of the vibration caused by the rotor blades.
At night, due to the fact that lack of light means you can only shoot on a slow shutter speed, I use large gyro-stabilising mounts. The camera sits on top of this.
I can only touch the mount and not the camera, otherwise, the vibration from the helicopter would cause blurred images. It's a tricky and laborious process but the resulting images are spectacular and I'm told they're a great help in design work to illuminate buildings.
I also shoot 4k or 6k footage, always using the best rigs and cameras with the biggest sensors so CGI companies have large files to work with.
Aerial Photography and the Weather…
No matter where in the world I'm working, I usually need a two-week window to shoot. Nowhere is this truer than in England, where our weather is fickle at best. I spend huge amounts of time peering at the skies and trying to predict the unpredictable.
In London, you might look up and see blue skies but you're only seeing a tiny proportion of what the weather is really doing. Even when it looks like a really clear day, once you're 1500ft up in the air the visibility might be poor. This is particularly noticeable when you're looking into the sun and, rather than seeing the glorious city all spread out before you, all you can see is the white of haze scatter.
If I know my photographs are going to be digitally manipulated, I'm more careful than ever about the timings of shoots. Dawn and dusk are popular requests, although, interestingly, people find it harder than you might think to distinguish between the two in photographs. New clients often select a colour palette from my library to demonstrate what they'd like, then ask for dawn despite choosing pictures taken at sunset.
Sun Up, Sun Down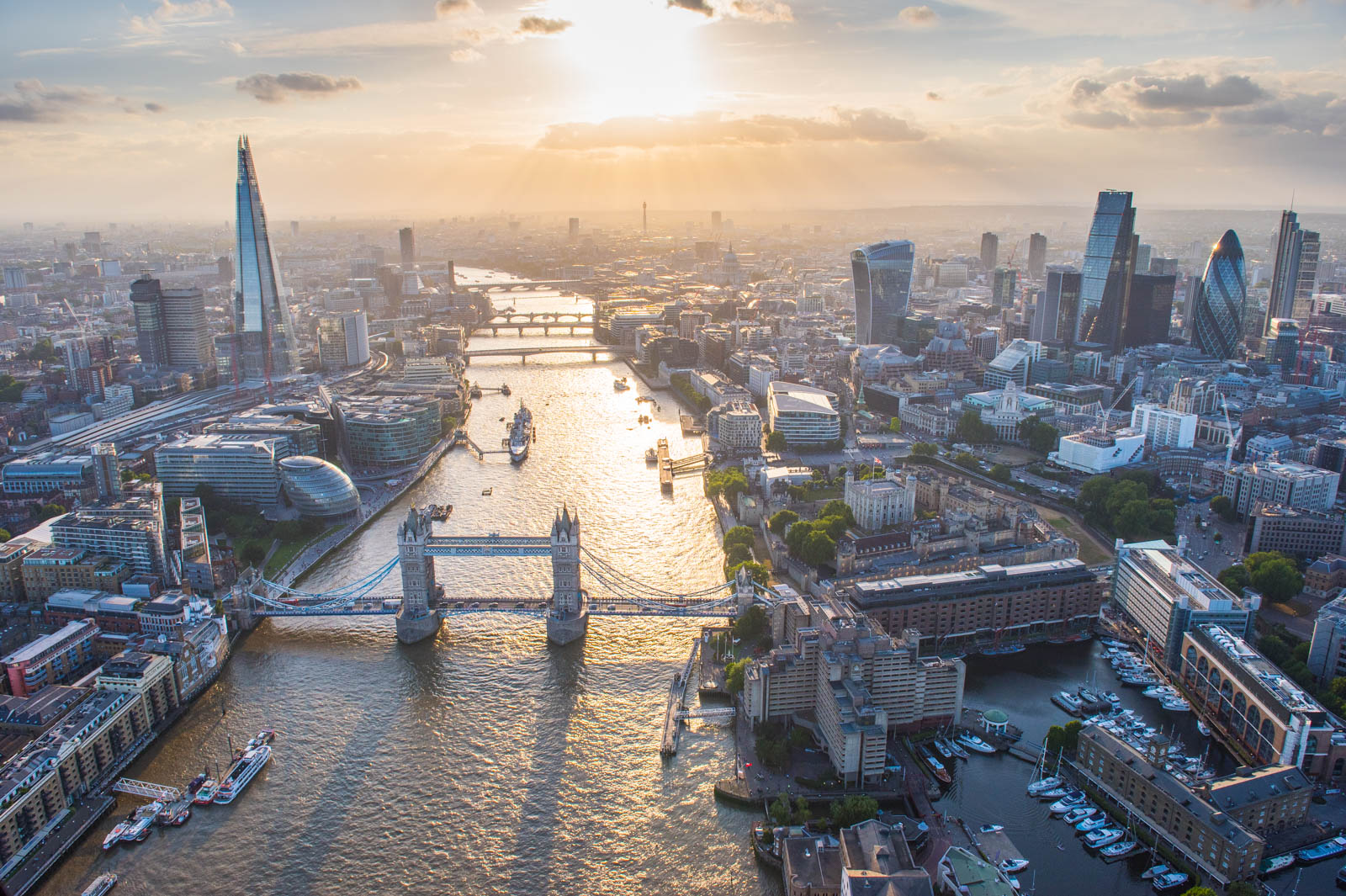 Dawn is actually a capricious time of day to shoot. I've flown over London many times as the sun is coming up, and more often than not it's misty until around 10 am, when it burns off. Sometimes, clients don't realise that the dawn angle they are asking for will mean looking straight into the sun. This happened recently, and I explained that it wouldn't result in the sharp details and lovely light they were looking for. Instead, we agreed to shoot at dusk, when the River Thames looks golden and blue as opposed to a mottled green.
Different locations around the world bring with them different challenges, such as diverse flying rules and regulations, but the guiding principles remain the same no matter where I am. I have to admit that New York is one of my favourite places to shoot, although over there I'm more likely to be flying at 3000ft rather than 1000-2000ft in London as the buildings are so tall.
The Next Step
There is a certain amount of crossover in the skills I use as an aerial photographer and those needed by CGI visualizers – an appreciation for design, an understanding of how to represent space and visual depth in the best way, even the physics of light.
I've found that this makes for naturally collaborative working. However, once I'm back down on the ground, my work is done and it's over to you to take it to the next level and seamlessly composite a building into the photo.
Here are some CGI's done using photos I took as background :
Here are more photos taken in London, specifically of The Shard :
And more photos of London…
—
Follow Jason on Twitter : @jasonhawkesphot
And his Website : www.jasonhawkes.com
Cover Image by Hayes Davidson